National headlining Performers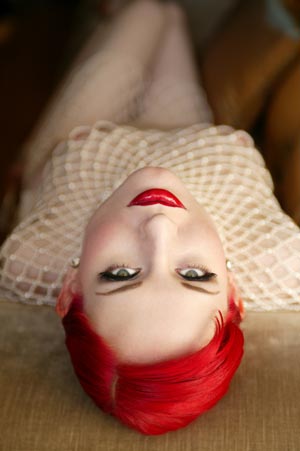 Angela Ryan (Dallas, TX)
Dallas' reigning pin-up queen has been modeling since 2001 and as since gone on to fame as an international burlesque headliner and Fetish/pin-up Model. Her range of performance and talent has made her one the scene's shining stars since she strapped on her tassels. Along side Angela Eve they both will be headlining the international stage at The London Burlesque Festival in April.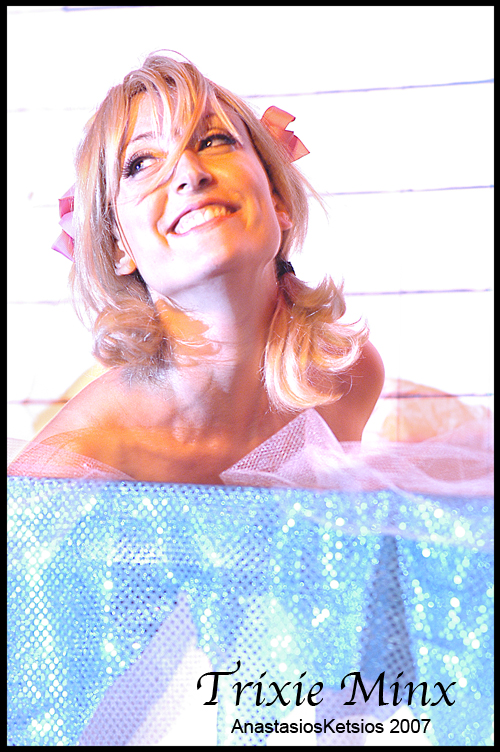 Trixie Minx (NOLA)
Trixie Minx is the creator and director of the Fleur de Tease Burlesque Revue based in New Orleans, LA. A burlesque dancer herself, she is known for her comic spin on the classic strip tease. Originally trained as a ballet dancer, Trixie has performed throughout the United States and Europe. Her most recent notable performances include The Voodoo Music Festival and the hit TV shows Miami Ink and Playboy's The Girls Next Door. Trixie and Fleur de Tease proudly support several charities and the rebuilding of New Orleans.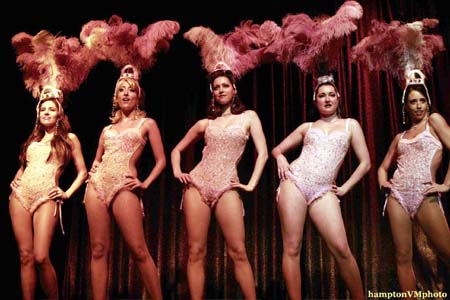 Fleur de Tease (NOLA)
Fleur de Tease is New Orleans finest and most exciting variety burlesque revue. The eclectic troupe can be attributed to the talented and varied cast of artists. Artistic Director Trixie Minx along with fellow dancers Natasha Fiore, Madame Mystere, Lily L'Envie, & Bella Blue have created a one of a kind entertainment experience bringing a modern twist to the classic vaudeville style show. These burlesque beauties were most recently featured at the 2007 Voodoo Fest as well as on the hit TV show Miami Ink. Fleur de Tease proudly supports the rebuilding of New Orleans and other charitable organizations and has contributed benefit performances to many fundraising events.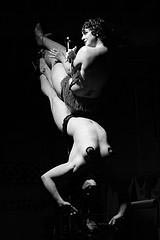 Gravity Plays Favorites (St. Louis)
St. Louis socialites Katrina Dohl and Michelle Mynx have been flying high across the nation as Gravity Plays Favorites for over three years. With their unique combination of sexy burlesque and athletic acrobatics (with an occasional rock and roll twist), these girls have quickly ascended the ranks of performers to become one of the top billed acts in such events as The New York Burlesque Festival, Cabaret Verdalet in San Fransisco, La Biblioteque in lovely Gotenburg, Sweden, and Las Vegas' Burlesque Hall of Fame.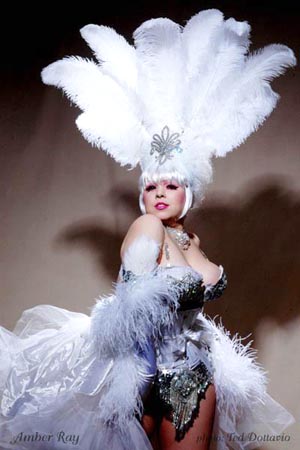 Amber Ray (NYC)
Amber Ray's pageantry is reminiscent of many iconic genres of the past and present and a major force in the evolving future culture of popular art. You will find her most often musing the masses through various stage productions, art installations, sitting for talented painters, photographers and designers. Amber Ray is an artist, costume designer, singer, entertainer and all around creative force of nature residing in NYC. From the beginning of the Neo burlesque scene in NYC, she has been a major force that started the thriving burlesque community of today. She has had many critically acclaimed performances at Miss Exotic World and The New York Burlesque Festival. Brace yourself for her power-packed manifestations of absolute fabulousness.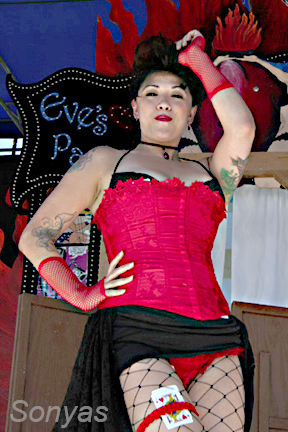 Holly Peno from Eve's Parlor (Miami)
Miss Hollypeneo is a professional burlesque performer and Go-Go dancer from Miami. She has been traveling back and forth from Chicago and Miami to perform with Eve's Parlor Burlesque for the past 3 years. Hollypeneo has been was one of The Admiral Theater's highlighted monthly-featured performers. Performing is essential to her happiness and well being. She loves people, people watching, and adores women! Her outlook on life can be summed up in her quote "Life somehow just isn't complete without a delicious glass of champagne!" Jesse Puente for their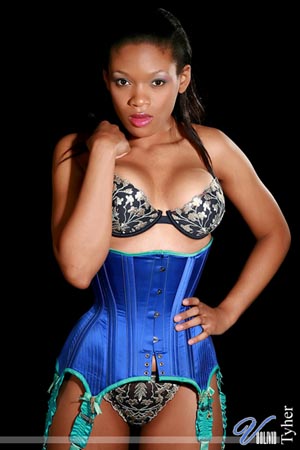 Amazing Miss Von LIVID (CHI and The UK)
Miss Von LIVID the Lusciously long legged international performance artist and Fetish Model. She performs regularly at the Torture Garden in London and has had many noteworthy performances in the past such as; Miss Exotic World, New York Burlesque Festival, Gurlesque Burlesque, Girlie-Q Variety Hour and Red Hot Dames. Along with her vast performance and modeling experience she is also co-owner of House Of Bias fetish fashions, writer and was an assistant director for the Women of Color in BDSM Photography Project. Her show is one not to miss!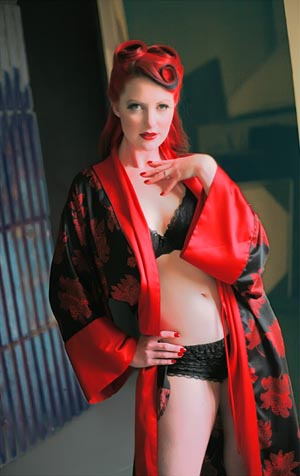 Go Go Amy (WA)
Starting in New York City as a cigarette girl, Go Go Amy quickly found her way onto a go-go platform at some of the hottest rock and roll clubs in town. Go-go dancing quickly led her into modeling appearing on flyers and ads for almost every band, club and party that she worked for. Moving to Los Angeles to pursue a career in costume design, she kept her go-go dancing gigs and modeling jobs to pick up extra cash in between sewing and doing wardrobe on movies and TV shows. Her love for sewing and for dancing came together when she started doing burlesque. Finally, she reasoned, she could sew ridiculous costumes and then take them off onstage. What more could a girl want? She now spend her days working as a vintage pin up model and a burlesque starlet on the Brothers Grim Sideshow, as well as being part owner of the Black Lab Recording Studio.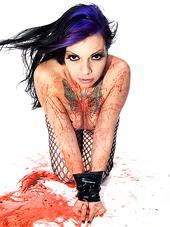 Miss Pussy Katt
A National Performance Artist and Circus Hellion, Miss Pussykatt has been shocking and entertaining for over 7 years, bringing her creative and innovative ideas to life. Her Unique twist on each performance is guaranteed to leave the audience speechless. Sharing the stage with many National artist's and variety of performers, Miss Pussykatt's stage presence and professionalism is impeccable. A pyro professional, grinder girl, burlesque chanteuse, fetish entertainer, suspension artist, aerialist, Vaudevillian, sideshow performer, she is ONE OF A KIND and 100% REAL. Now.. Enjoy The Show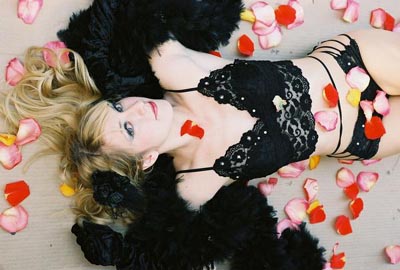 Lola Van Ella
Lola Van Ella is a saucy chanteuse, stripteuse, m.c., and producer who is a featured and original member of the Alley Cat Revue and Atomic Cabaret in St. Louis. Coined, "The Derriere Beyond Compare" by a local theatre critic, she has been singing, dancing
and performing acts of aerial amazement every Saturday and beyond for nearly three years, and has been a professional actress, singer, and voice-over artist for the last seven years. Lola is also an educator in the burlesque arts and teaches classes at Floored dance studio in St. Louis. Lola has performed at Miss Exotic World in Las Vegas, The Burlesk Goes North Festival in Vancouver, with Bustout Burlesque in New Orleans, Starshine Burlesque in New York, The Best of Midwest Burlesk in Minneapolis, and with The Belmont Bombshells in Chicago, as well as performing at various venues all over the country. She was also recently named one of St. Louis' 25 most influential people, places, and ideas of 2008 by Alive Magazine, and will soon be opening a fabulous burlesque and vaudeville theater in St. Louis. Lola is extremly proud to continue furthering the large and ever expanding St. Louis Burlesque movement. Keep track of this adventurous ecdysiast by stalking her online...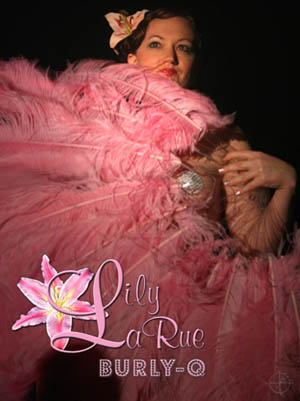 Lily LaRue
Lily LaRue is a burlesque dancer, model, and video artist that have been mesmerizing audiences in Detroit for the last four years. She has performed at the international erotic art exhibition, "The Dirty Show," held annually in Detroit with Hell's Belles Girlie Revue and recently made her international debut at Roxi Dlite's Cabaret Theatre in Canada. She performs regularly with Detroit's only old-time vaudeville-style variety show, Torch with a Twist. Lily has a wide range of acts from classical fan dances, to modern rock and metal acts. She is the creator and instructor of "The Art and History of the Burlesque Strip Tease" a seminar teaching women confidence and empowerment though learning about burlesque.