Local Performers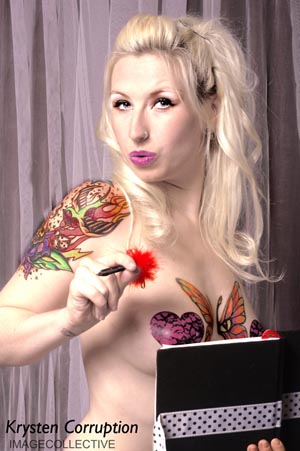 Krysten Corruption from Eve's Parlor and Pixel Pussy
Krysten Korruption is a strong and talented performer that has been dancing and performing for the past 23 years. Her training started in a small little town in Illinois then continued at The American Dance Center, La Danse Academy, and Joel Hall studios in Chicago. She has taught ballet, tap, and hip hop at The Highland Park Dance Center. Performing in the Chicago area and abroad for many years. She has been instrumental in the development of Eve's Parlor unique style and is a talented choreographer. Krysten's choreographed explosive routines with Eve's Parlor Burlesque have been highlighted at several shows. "Casino Queen" is her current headlining routine that brings you back to a classic bygone era of the 50's; surely this is one not to miss! Over the course of the festival she will be performing several unique and diverse acts.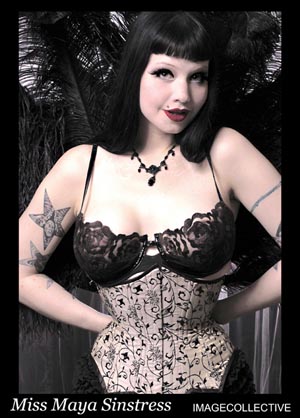 Miss Maya Sinstress from Eve's Parlor Burlesque, Sinstress Side Show and Pixel Pussy (CHI)
The one and only Miss Maya Sinstress is an accomplished international performance artist and Fetish Model. She performs regularly with her Sinstress Sideshow and has been a featured burlesque performer with Eve's Parlor for years. Her burlesque performances rang from classic strip tease to alternative sideshow art. She was this year's featured international performer as The Sprit of Desire at The New Years 2008 Torture Garden Ball in London. She is one of Chicago's famed underground performance and bondage artists. Performing every night at the Admiral Theater she will amaze you with several acts of performance art and classic burlesque.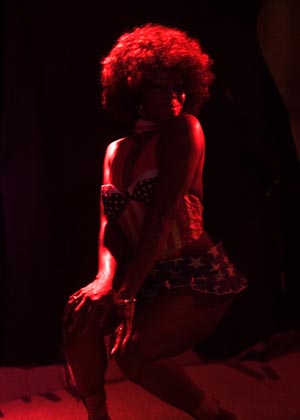 Foxy from Eve's Parlor
One of the hottest and most sensual acts at the fest! Her vast exotic dance experience has trained her to take the Admiral stage by storm. Foxy's triumphant performance ranges from a classic Hollywood Glam set to a Billy Holiday song and a vintage styled routine based on the famous Josephine Baker's "Banana Girl." Being an original Eve's Parlor troupe member she has been a valued performer rounding out Eve's Parlor cast with exotic and erotic magnetism.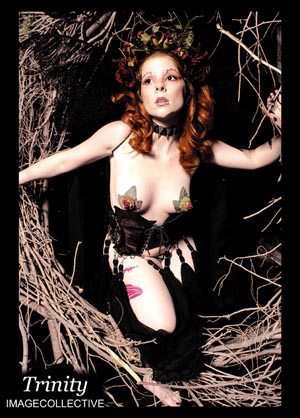 Trinity From Eve' Parlor
Trinity's running act "The Nyphon" is gracefully choreographed by Trinity and set to a Eve's Parlor custom designed costume and organic set. This routine will take you into another fantasy lead by Trinity's elegant and charming nature. She has been performing with Eve's Parlor from the beginning and is a valued troupe member. Over the course of the festival she will perform several specifically styled routines for the festival.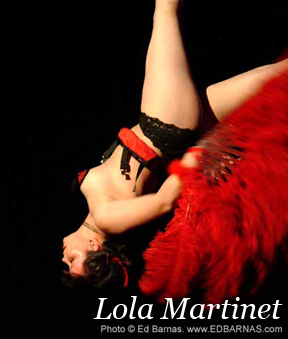 Lola Martinet
Lola Martinet specializes in aerial and engineered burlesque. She is the director of the Amazing, Bendable, Posable "Dolls of Doom" - an acrobatic burlesque act. She has a vast range of performance experience and professional choreography for aerial and acrobatic arts. She has also graced the stage at many notable shows such as Miss Exotic World and The New York Burlesque Festival. Having performed regularly with Eve's Parlor and Flesh Tones Burlesque her exquisite skills are a definite must for this festival!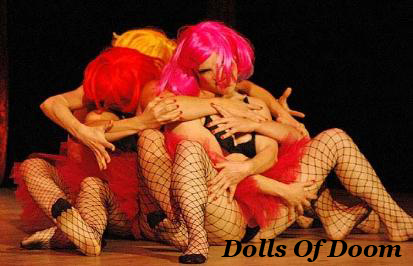 Dolls of Doom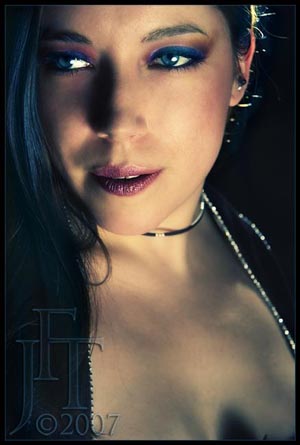 DanYell from Varietease and Flesh Tones Burlesque
DanYell has become a new and unique fixture in the Chicago Burlesque scene over the past year. Performing regularly with Flesh Tones Burlesque and Varietease Cabaret, this little lady with the big bottom delights crowds with her raw sexual flair and energetic performances. With a background in exotic dance and music, she creates tantalizing routines that are sure to leave you hot and bothered. DanYell will be debuting two new vintage inspired acts especially for the Admiral Theatre show, and will also be featuring some of her edgier rock inspired routines for the Debonair party revue.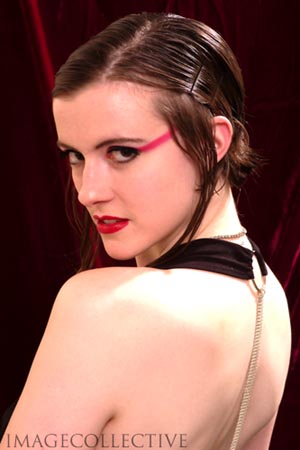 Holly Wouldn't
Miss Holly Wouldn't first performed in Frankie Vivid's Amazing Burlectro Show amateur contest to earn her spot in Frankie & Michelle's Star & Garter Burlesque. Audiences may know her best from her debut in Gurlesque Burlesque as Lil' Red Riding Hood. She performed monthly with the Girlie-Q Variety Hour at the Hot House and Heartless B!tch Entertainment for nearly a year. In November 2006, Miss Holly performed her role as Fannie Biggs in the Lola Project: a full-length theatrical mix of drag and burlesque narrative. Also that fall she was part of a six-month run in a weekly Star and Garter Burlesque show held at Fizz in Chicago. Miss Holly has performed monthly with Franky and Michelle's Lipshtick show at the Lakeshore Theater . She has also performed with other local shows such as: Eve's Parlor and Varietease cabaret .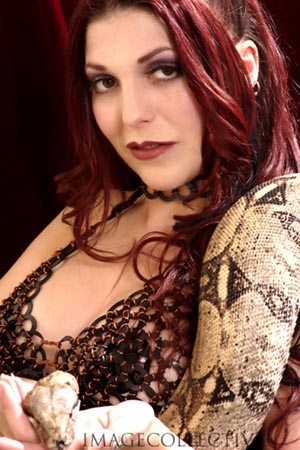 Cherish the Burlesque Goddess
Cherish the Burlesque Goddess is a snake dancer, burlesque performer, artist & fetish model. She has performed with Eve's Parlor, Flesh Tones and Varietease Cabaret shows. In addition to being a solo performer she has also produced several shows under the name of "Cherish's Chicago Burlesque Show" at several venues in Chicago. Her famous snake act with "Pagen" (her burlesque companion) will surely tantalize you. She will be a highlighted feature performer at the "The Glitter Glamour Party" at Debonair Social Club.
Gigi Deluxe
Gigi DeLuxe is a fabulous personality, an extraordinary visual artist in painting, film and photography. She has recently released tracks on iTunes.com under her company, Dark Betty Productions. She is a multi-faceted creative visionary that performs and shows her work regularly in Chicago, Los Angels and New York. Her show will be a highlighted performance at "The Glitter Glamour Party" on March 13.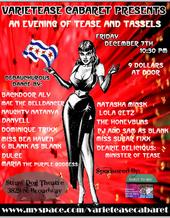 Varitease Cabaret
Several featured acts at the "Glitter Glamour Party" will be from The Chicago Varietease Cabaret featuring Chicago's finest burlesque dancers, songbirds, magicians, musicians, comics and more, all under the direction of Mae the Bellydancer and BackDoor Aly. Featuring some of the edgiest burlesque, modern dance, "blue" songs, and variety performances in town, the Varietease Cabaret is the alternative to mainstream burlesque. The show mixes drag, striptease, dance, comedy and radical sexual art with "lowbrow" performance interests. They regularly dig up the strange, the bizarre and the fantastic for an unforgettable evening that will titillate, enchant, entertain, dazzle… and stimulate your grey matter.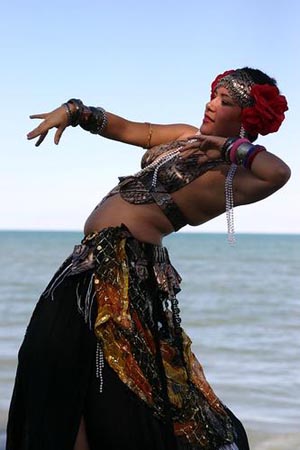 Mae the Bellydancer Co- Producer of Varieitease Cabaret
Mae the Bellydancer is a gothic and tribal fusion belly dancer in Chicago. Performing tribal fusion to hard rock music, she was embraced by the burlesque community. She co-produces the Varietease Cabaret and has performed with the Girlie-Q Variety Hour , Flesh Tones Burlesque, and her own troupe Caoba (maethebellydancer.com) . She can currently be seen shaking, shimmying and sinuously slithering all over the Midwest, and showing how you can to do it too at Arabesque Chicago Dance.
Maria the Purple Goddess from Flesh Tones Burlesque & Varietease
Maria The Purple Goddess has been performing at fetish shows in Chicago and nationally for a number of years. She burst onto the burlesque scene last summer with Cherish's Chicago Burlesque Show and has been a new fixture with Varietease Cabaret and Flesh Tones Burlesque. Maria will be performing a number of acts for the burlesque festival, including her performance art inspired act "Eat Your Heart Out" on the Admiral stage, renewing her balance ball act at Debonair, as well as a number of duets with Maiden Sacrifice. The Purple Goddess brings art, humor, and the unexpected to the sexy that is striptease.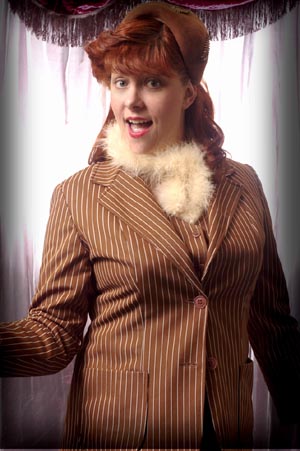 Miss The Juleps- Bea Haven & Red Hot Annie From Girly Q
Miss Bea Haven a.k.a. Jeanne Theresa Newman is a Chicago-based burlesque and performance artist. She has performed her comedic dance performance with nearly every burlesque outfit in town, including Michelle L'Amour's Star and Garter, Red Hot Dames, Varietease Cabaret, and the Sissy Butch Brothers' Gurlesque Burlesque. She has been working in the medium for six years and shows no signs of slowing down anytime soon. She is the founding producer/director of the Girlie-Q Variety Hour and Dyke Mic, a poetry and music event. Her work has been seen all over the country, as she is the "best damned dilettante" she can be.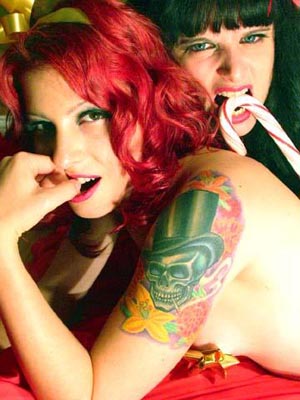 Flaming Dames
Chicago's ORIGINAL "Dames" have been around since 2002; and since then, they have been rocking audiences out of their own skin.The Faming Dames style is contemporary burlesque; solidly based in pop-culture parody and good 'ol fashioned Rock & Roll! Some of the sugary-sweet Dames that you'll witness being unwrapped include Miss Hot Cocoa, Rita Red-Ribbon and Miss Ginger Snap.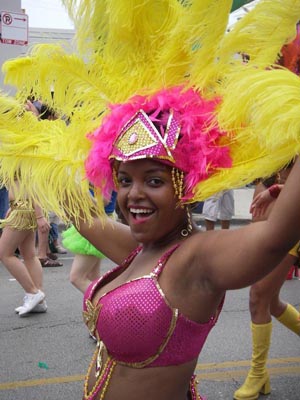 Yaasha
Plus many more to come………………………………