Headliners And Producers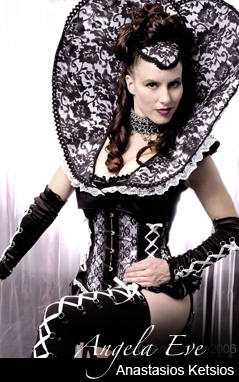 Angela Eve of Eve's Parlor Burlesque
Angela Eve will perform a different set each night that consists of a vintage strip tease with a live band accompaniment and a fully staged multi-media performance art extravaganza. Her performance combines the finest elements of erotic dance, visual arts, burlesque steeped in tradition, and aerial finesse to create a virtuoso performance art extravaganza. Influenced by retro-style circus and sideshow revues, her expertise in visual multi-media art is reflected in her elaborately designed sets and intricate costumes, creating a decorative landscape.
She is not only a local performer but has also reached international status. For two years running, Angela Eve has been a headlining international act at Chaz Royal's London Burlesque Festival. This year she will be an international headliner along side Angela Ryan from Dallas. They will be gearing up for The London Burlesque festival on April 4,5,and 6. She frequently performs in a variety of acts across the nation including Chicago, New Orleans, Las Vegas, and Los Angeles.

Angela Eve is the creator and driving force of Eve's Parlor Burlesque, which has achieved a great level of success in the Chicago burlesque scene. The show has sold out many dates in the past year and was a featured act on the Ozzfest 2005 tour at select dates in the Midwest. Angela Eve first showed up on Ozzfest several years ago with her own line of body adornment, costumes and jewelry that were created to be wholesaled and sold at major music festivals. This lead to creating a sideshow for Ozzfest. The show was christened "Eve's Parlor – Pains and Pleasure Burlesque". The show was created with performance artist Luxx Noir and toured with Ozzfest for several years, generating a large amount of press along the way. Her sideshow created for Ozzfest eventually turned into a full-blown burlesque cabaret.
As well as being an accomplished multi-media and performance/dance artist, she has a BFA degree from The Art Institute of Chicago. She has participated in and created a sizeable range of performance and visual art shows that include elements of burlesque, photography, and painting. A professionally trained actor, she has studied Meisner, Shurtleff, and is a graduate of The Second City Conservatory. She has received alternative movement training from the performance art department at The Art Institute of Chicago, dance training from Lou Conte studios and aerial arts at The Loft Dancer Studios in Chicago.
In addition to performing burlesque and feature exotic dance shows frequently in New Orleans, she is working on a book with Anastasios Ketsios that focuses on abstract and documentary-style photographs of the city during and after the Hurricane Katrina crisis.
Angela Eve's show was highlighted by Rolling Stone's August 2002 issue in an article about Ozzfest and highlighted as "Things not to miss on Ozzfest" in addition to being mentioned in USA Today. Angela Eve graced the cover of the Arts & Events section of the Chicago Reader in August 2005 for her "Bad Girl Rock Revue". Timeout magazine and UR Chicago have highlighted Angela Eve's performance and Eve's Parlor Burlesque from 2005,2006 and 2007.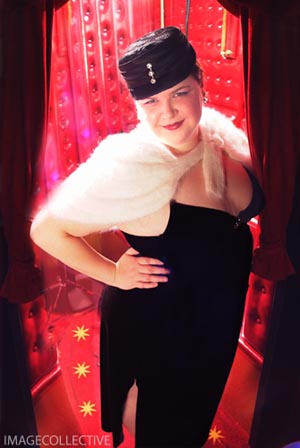 Maiden Sacrifice of Flesh Tones Burlesque
The bewitching Maiden Sacrifice knows how to work her magic. Her influences are both classic and modern. She'll take you into a world of extremes and just when you think you know her well, she throws something new at you.
Maiden Sacrifice made her burlesque debut in 2005 and worked with a variety of troupes while helping produce events including Red Hot Dames. Now she is a solo performer as well as the producer of Flesh Tones Burlesque (a charity event) and co-producing the Twisted Tassel Burlesque Festival.

Flesh Tones Burlesque & Clyde Productions produces innovative charity events, ranging from dance events to Flesh Tones Burlesque Shows. Her events bring you into a world of bodacious burlesque, vintage erotica films, live bands, raffles, games, and auctions all benefiting local charities.

Maiden Sacrifice has combined her burlesque performance and producing experience with charitable foundations and benevolent organizations ranging from outreach programs for the troubled and disadvantaged to anti-violence campaigns; contributing both financially and on a volunteer basis.
"MetroMix describes Flesh Tones Burlesque charity events as a "gussied up celebration of sexuality". They have been seen as a Daily Special in the Chicago Reader, Hottest Events pick by Metromix, Critics Choice in Time Out Chicago, featured in the Gapers Block, Chicago Tribune, Chicago Sun Times and reviewed by DykeDiva.com. Flesh Tones Burlesque has also danced with the Flesh Hungry Dog Show, ChixMix, Versage Productions, Eve's Parlor, Varietease Cabaret, and worked with the Sex Workers Outreach Project (SWOP)."