Live Music at The Admiral Theater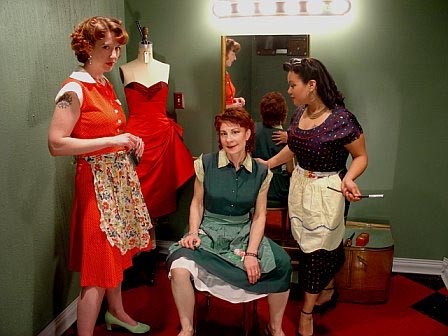 The Honey Bees
Formed more than eight years ago by Barbara Clifford (vocals) and Theresa Drda (drums), the Honeybees were created with the idea that female vocals can be reinvented to make an important impact on today's music scene. The two core members worked with various personnel over the years. Today, the Honeybees' rock-solid line up includes Rachel Decker (vocals), Mark Braun (guitar/steel), Manny Guevara (guitar) and Michael Hogeorges (bass). With the tight, expressive harmonies of Barbara and Rachel, and Theresa as the driving force behind the drums, these three women represent the feminine strength behind the name. From there, the Honeybees move into a driving modern energy mode giving you a late 50's/early 60's rock n roll sound.

The Del Moroccos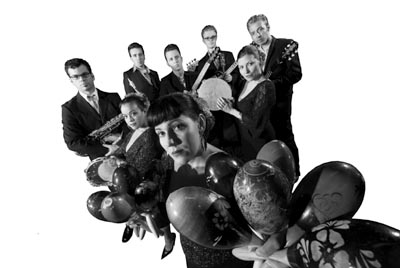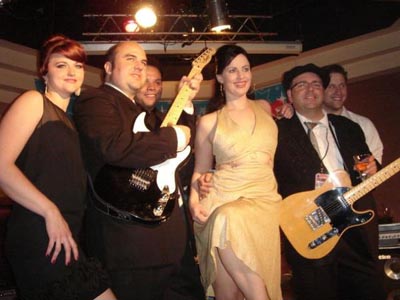 Sophia Wolff & the Cubs
Sophia Wolff & the Cubs are a rip rockin' good time of rockabilly, country and blues. With self-penned hits such as "Rockabilly Boy", Playgirl" and "You Can't Lose When You Choose Booze", Sophia and the boys will have you itchin' to jump on the dance floor to jive the night away. Sophia moved from Austin, Texas to Chicago, Illinois and has a brand new killer band line-up!

Live Music at Debonair Social Club

Thunderwing
"Ass-whoopin' alley rock at full throttle: local four-piece Thunderwing's "Bang" is appropriately titled, as the group takes its cues from MC5, The Stooges, T. Rex and everyone else you would expect. Riff-heavy and absolute, the songs bring back the guitar solo, with rage and aggression, and it fits just about everywhere. Remarkably, the record doesn't get stale at any point-this brand of intensity is usually better translated in a live setting, but here, on tape, it's pretty damn convincing. Songs like "Sharpen Your Teeth" and "She's So Tough," which boasts a nice wah-wah-pedal guitar solo, do the trick."
- Tom Lynch, NewCity Chicago

American Disaster Party NOLA
Hailing from the underbelly of the New Orleans Bywater, rock band American Disaster Party is traveling north to represent New Orleans for "Make It Right Nola" at the Glitter Glamour Party at Chicago's Debonair Social Club on March 27. The band formed in the fall of 2007; the members met during the original production of The Palanquin Diaries, a sordid rock musical and burlesque show, in which they starred as the Queen's Henchmen and co-wrote the original score. After the show's summer run and nine sold-out performances, three members of the band decided to continue their collaborative efforts, and American Disaster party was born. They are:
Johnny Feral – guitar, vocals
Shawn Reynolds – bass, vocals
Chris Brooks – drums
Since Diaries, American Disaster Party has been featured at a variety of venues, including headlining the 4th of July Bash at Bacchanal Winery, the 6T9 Parade Halloween Celebration at the Truck Farm Studios, and the Cyclecide Bike Rodeo.
American Disaster Party has been described as "hot and relentless" [The Times-Picayune, June 29, 2007], and has been featured in reviews by Artillery Magazine, The Gambit Weekly, Nola.com, Bestofneworleans.com, among others.

My Cold Dead Hand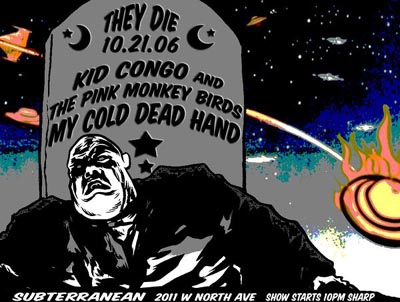 Hot Rod Hucksters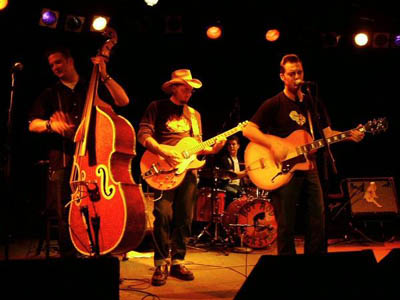 Sideshow Artists at Debonair Social Club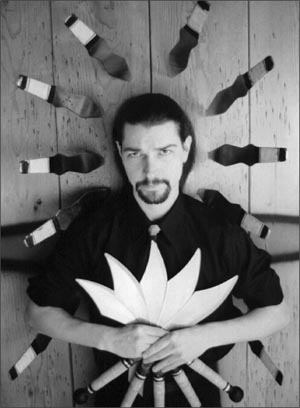 Mark The Knife
I am known as MARK THE KNIFE "The world's most dangerous comic. I have performed stand-up comedy around the world, performed in seven circuses, the Lazer Vaudevlle and four sideshows (JIM ROSE CIRCUS SIDESHOW, etc.) in 17 different countries. I have even been banned in three countries. My signature stunts include balancing a running lawnmower on my face, kicking a flaming bowling ball inserted with knives into the side of my head, juggling a buzz-saw and a flaming chainsaw, performing card tricks with a live scorpion (David Copperfield has since stolen this act of mine), throwing knifes (Including at people) & things most people could not even imagine. I have been fortunate to have been asked to perform /open for Pearl Jam, Korn, Nine Inch Nails, Janes Addiction, Marilyn Manson, Lucky Boys Confusion, Nelly, The Red Hot Chili Peppers, Mya, Kid Rock, Brian Setzer, The Ataris, Sugar Ray, John Mayer,and others. I have also appeared on Late Night with David Letterman, Comedy Central, Ripley's Believe it or Not, Disovery Channel, America's Got Talen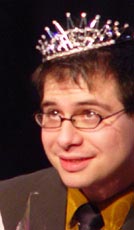 The Amazing Tomas
Professional magician, part-time handsome person. Known and loved by magic nerds around the world from his Cardiologist Deck and Geek Magic DVDs, Tomas has performed throughout the Chicagoland area at venues like Six Flags Great America, the Allstate Arena, the Double Door, Congress Theater, Milwaukeefest, The Vic, House of Blues and Joey's 8th birthday party in Hinsdale, Illinois. Past credits include the William Darke Psycho Circus and Freak Show Spectacular, where he opened for musical acts like Nelly, Mya, Third Eye Blind, Insane Clown Posse, Cyprus Hill, and The Smithereens. When not eating cigarettes and razor blades with the Bombshells, you can find Tomas shaking his money maker with Michelle "Toots" L'Amour and the Sugarbabies of Lavender Cab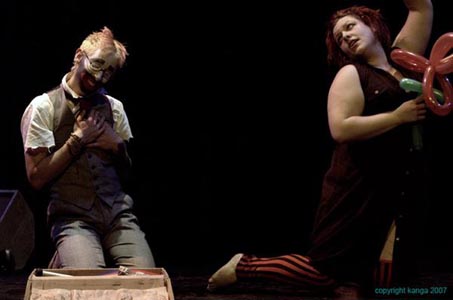 Scrapyard Sideshow
MizLiz currently of New Orleans, LA and Erik Bang!!! of Milwaukee, Wi having been roving the country side for the past two years performing acts of old school sideshow horror and delight. Tonight they come together to present a dance of danger and beauty.

DJ's at The Admiral Theater
Jimmy Sutton
and
DJ's at Debonair
and
Hosts at The Admiral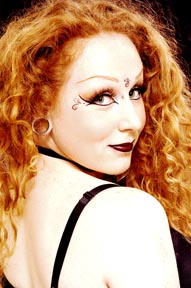 Miss Tamale
Tamale is a multifaceted performer based out of Chicago, IL. As a comedian, she performs stand-up, improv, and sketch comedy; writes her own material, and is often hired to host events near and far. Although she constantly explores an ever-widening variety of performances, she considers herself a comedian first and foremost. Currently creating her own show called the Sensuous Woman, she plans on being a comedian full time. She has hosted a wide variety of burlesque shows in Chicago such as; Eve's Parlor, Flesh Tones Burlesque, Gurlesque Burlesque and Red Hot Dames.
Vincent Drambuie from Seattle, WA
Vincent Drambuie has been working the burlesque circuit for many years and has worked with a huge range of famed burlesque performers. Some of his most recent memorable burlesque performances have been with The London Burlesque Festival 2007, Peek-a Boo Revue from Philly and touring Alaska with Glam-O-Rama. He has appeared in TV commercials for the Seattle Super Sonics, hosted: "Things That Go Bump In the Night", Mamma Fest Breast Cancer Benefit, Boobies For Boobies Breast Cancer Benefit and many other large events in Seattle. He has written several commercials, comedy bits, and has performed extensive voice over spots. His current project outside of the burlesque world is regularly appearing on one of Seattle's hottest new live game shows "Match Game".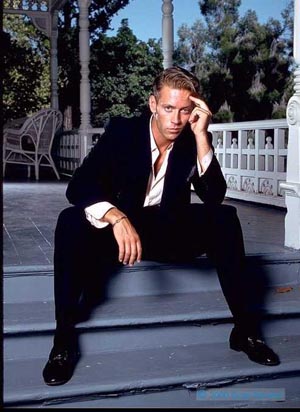 Norm Holly from Second City
Norm Holly – Artistic Director of the Conservatory program at Second City. He has directed Second City shows including Baby Richards Got Back and 40 Oz. And a Mule. He was the Assistant Chairman of the Columbia College Theater Department for eight years and directed many productions there including Caucasian Chalk Circle with Jeff Perry and Barbara Robertson and Once in a Lifetime with Michael Maggio. Norm appeared in the New Broadway Theater production of Streamers with Dennis Farina, directed by Terry Kinney. He was director of the live comedy series Anti-Comedy I/II/III with Dino Stamotopolous and Andy Dick, on-camera director for Cinifolio (now Short), and director and producer of Second City's NBC pilot as well as dozens of revue productions.

Hosts at Debonair
Patrick O'Connor